If you are looking for a Purebred French Bulldog Puppy this is where you can find out about our upcoming litters.
Gestation of French Bulldogs are 64 days although they can be born a few days earlier depending on thats happening with mum and babies. After the puppies have been born we help mum and babies out as much as possible. We stay with them all day and all night nonstop for the first few weeks of the puppies life. During this time we also make sure that mum is healing properly from her C-section, getting lots of rest and eating plenty to help sustain her and to help her produce enough milk for the litter.
Litter sizes vary anywhere between 4 – 7 puppies.
When the puppies are around  3/4 weeks of age the fun begins! We start introducing solids to their diets and potty training. We introduce them to the outside world, which they love! and we have lots of fun playing and watching them grow.
We highly recommend viewing puppies before making your decision. Puppy viewings generally start when the pups are around 5/6 weeks of age. This is a great opportunity to see where the puppies have been raised, meet the parents and have a play with the puppies.
Just before they turn 8 weeks old the puppies get Microchipped, Vaccinated and vet checked. Then from 8 weeks of age they are ready to go to their new loving families.
If you are interested in any of our upcoming litters please email us with your details and we will get back to you.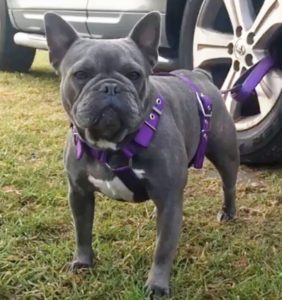 Dam: Luna
Colour: Blue carrying tan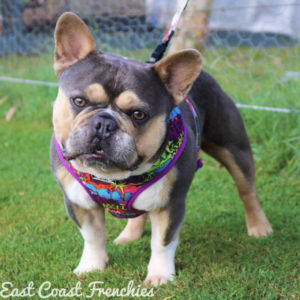 Sire: Cash from East Coast Frenchies
Colour: Blue and Tan
Luna and Cash puppies have all found their forever homes
If you would like to register your interest in this amazing litter please email your details along with contact number to chosenfewbulldogs@outlook.com or call us on 0421 703 649