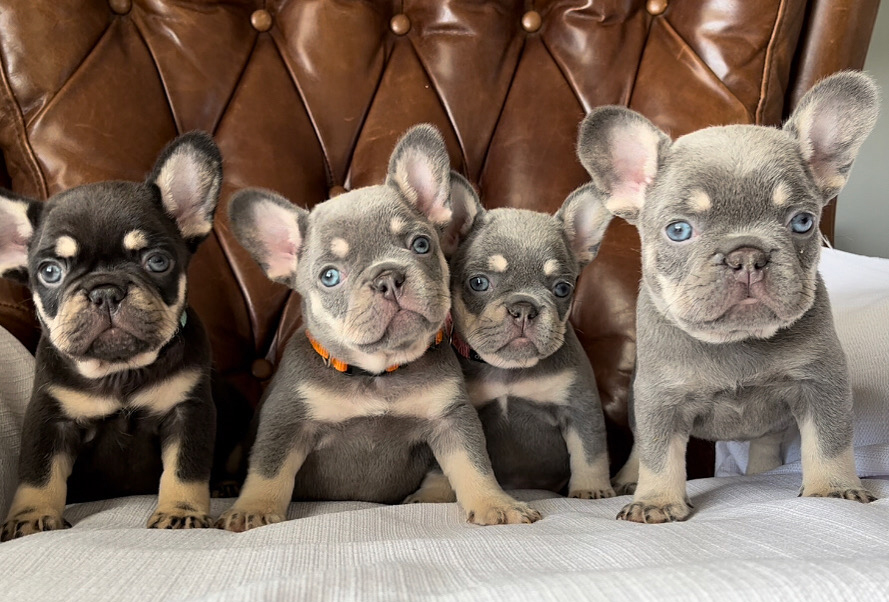 What to look for when buying a Frenchie puppy
When searching for your perfect Frenchie Puppy there are a few key things you need to look for to help ensure you find the best pup for you.
The first step is finding a reputable breeder who has many years of experience in breeding French Bulldogs. French Bulldogs are not an easy dog to breed, so an accomplished breeder is essential for a good puppy. You also want reassurance that your Breeder will be available to help with anything that might arise once you have taken your puppy home.
A reputable breeder will be registered with a breeding association, such as Master Dog Breeders Australia. When a breeder is a part of this governing body they have agreed to breed to a code of practice and ethics. A breeder is also required to follow correct legislations within their council area and national standard.
Once you have found a reputable breeder, the next step is to choose if you would like a girl or a boy pup? One question we get asked a lot is, "which gender is calmer and easier to handle, male or female?" The answer to this is that it really depends on the individual puppy, and isn't something that's based on gender. I recommend looking at what the parents' nature is like to try and determine what a puppy could be like based on them. So, although you are purchasing the puppy it is very important to find out what its parents are like: what do they like to do? Do they like the water, do they like to cuddle, are they active or more on the lazy side?
Viewing photos of the parents is also important, as then you are able to envision what the puppy may look like when it grows up.
Photos of the parents can also help you with deciding what colour puppy you would like. Although there are rumours about the health of coloured Frenchies, choosing a puppy that is blue, lilac, chocolate or even merle does not predispose it to have any more or less health issues as it would a fawn or brindle French Bulldog.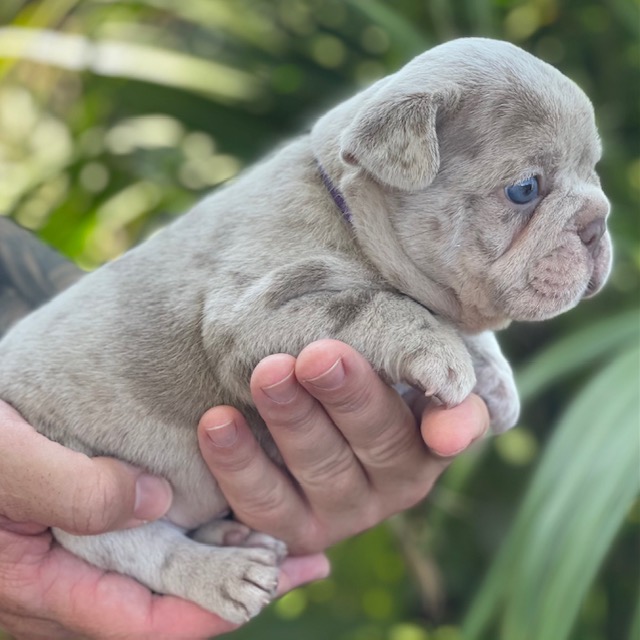 When looking at buying a French Bulldog puppy, another quality to look for is how the puppy was whelped (born). Our puppies are all whelped inside our home in a specific room designed to help make mum and babies feel comfortable. The room is always set to a warm temperature, generally around 28/30 degrees celsius for the first week. As warmth is key for new puppies, whether it's winter or summer, we also have a whelping box in the room with a heat pad. We take personal care of and nurture each and every puppy and their mums, making sure the mums get adequate time outside in the fresh air and sunshine. Our pups are socialised with both our own family members and other dogs on a daily basis. This means that they have a healthy emotional start to bonding with you and your family too.
It's very important that parents are DNA tested and that pups come with a full vet check, first vacation, are microchipped and are regular wormed.
When it comes time for you to choose a puppy don't be discouraged if you are unable to view the puppy in person. This is normal practice, as we try to reduce the number of germs potentially encountering the unvaccinated puppies. It is also a security issue as we need to keep our Frenchies safe! Believe it or not mothers and puppies do get stolen! The best way to meet your puppy is via photos, videos, and FaceTime. All good breeders will be able to provide you with plenty of opportunities to see your puppy. You will also be kept informed on your puppy, with weekly or fortnightly updates until you are able to take your new family member home. This way we can ensure the happiest experience for you and your new fur friend.